Germany is suspending routine use of the Oxford-AstraZeneca Covid-19 vaccine for people aged below 60 because of a risk of rare blood clots.
The German medicines regulator found 31 cases of a type of rare blood clot among the nearly 2.7 million people who had received the vaccine in Germany.
Canada earlier suspended use of the AstraZeneca jab in people under 55.
AstraZeneca said international regulators had found the benefits of its jab outweighed risks significantly.
It said it was continuing to analyse its database to understand "whether these very rare cases of blood clots associated with thrombocytopenia occur any more commonly than would be expected naturally in a population of millions of people".
"We will continue to work with German authorities to address any questions they may have," it added.
The EU and UK medicine regulators both backed the vaccine after previous cautionary suspensions in Europe this month.
In the UK, a government spokesperson said: "The Oxford/AstraZeneca vaccine is safe, effective and has already saved thousands of lives in this country. As the UK's independent regulator has said, when people are called forward, they should get the jab.
"Over 30 million people have already received their first dose of a vaccine, and we are on track to offer jabs to all over-50s by 15 April and all adults by the end of July."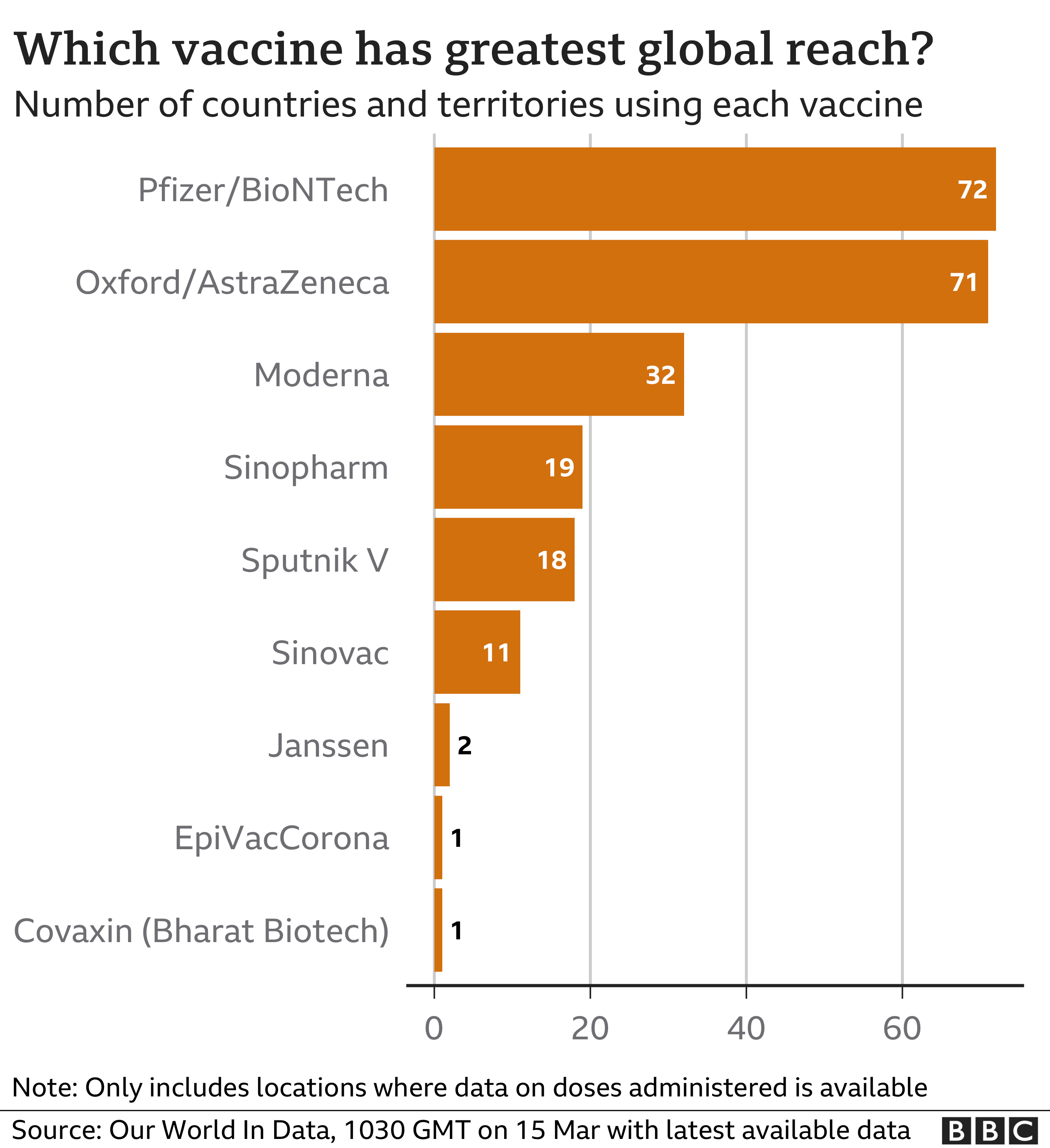 AstraZeneca's product is one of the most widely used coronavirus vaccines in the West, and is meant to be supplied on a not-for-profit basis to the developing world.
The EU's rollout of its vaccination programme has been dogged by delays because of delivery and production problems, and Germany is among several states now fearing a third wave of infections.
On Tuesday, Italy's Prime Minister Mario Draghi and his wife, who are both 73, received their first doses of AstraZeneca in a display of confidence in the vaccine.



If you give a vaccine to millions of people you will of course see some cases of people falling seriously ill or even dying shortly afterwards. It does not mean the vaccine has caused the problem – it could have occurred naturally. What authorities have to work out is whether it is cause or coincidence.
They do this by monitoring adverse events after vaccination and see if they are above what you would normally expect. The type of blood clot that has been seen is very rare and so it is hard to know exactly how many cases you would normally expect to see. We do know it is more common in women and taking the pill increases the risk of it happening.
There is no evidence yet to prove the AstraZeneca vaccine increases the chances of these clots. But, even if it does, the next thing you have to take into account is whether Covid presents more of a danger.
Regulators in Europe and the UK are clear – given the current evidence – that use of the vaccine should continue in all ages.


What is Germany's new policy?
Health Minister Jens Spahn and the 16 state health ministers decided to suspend routine use for the under-60s at an emergency meeting on Tuesday.
People under 60 can still receive the jab but only "at the discretion of doctors, and after individual risk analysis and thorough explanation", according to a document seen by dpa news agency.
The decision was reached on the advice of the German vaccine committee (Stiko) which said: "After several consultations, Stiko, with the help of external experts, decided by a majority to recommend the AstraZeneca Covid-19 vaccine only for persons aged 60 years and older on the basis of available data on the occurrence of rare but very severe thromboembolic side effects."
Additional advice about booster shots would be issued by the end of April for younger persons who had already received a first dose of AstraZeneca, Stiko said.
Chancellor Angela Merkel said there must be no doubts about the safety of any drug being administered in Germany: "We have to be able to trust the vaccines… This also includes the subsequent ongoing testing of their effectiveness and safety, and the permanent weighing of risks and benefits. Confidence arises from the knowledge that every suspicion is counted in every individual case."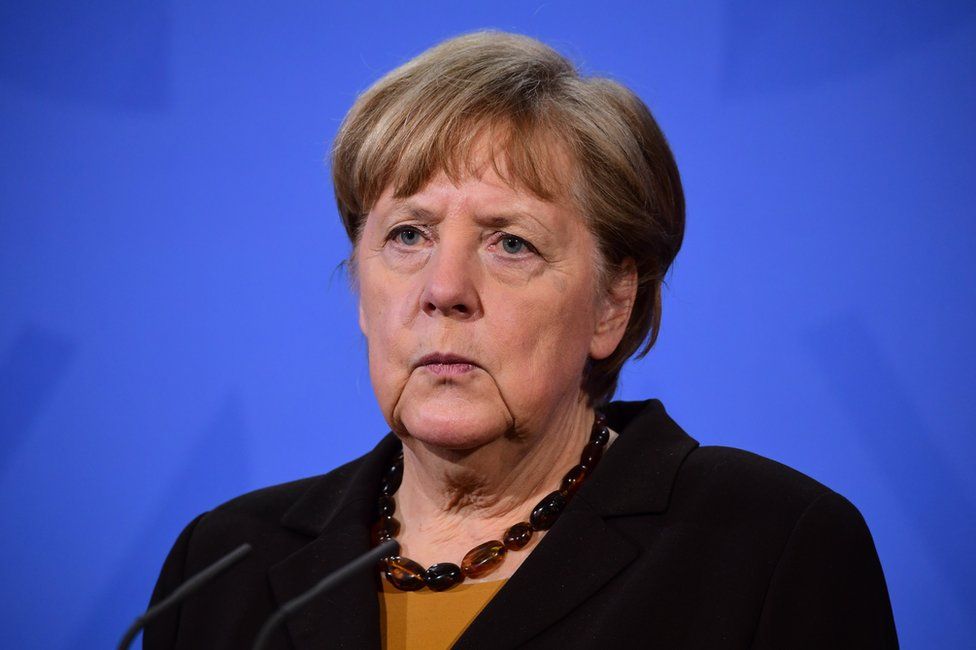 The 66-year-old added that she was open to being vaccinated with AstraZeneca when her turn came.
Ahead of announcement, the German cities of Berlin and Munich, and the region of Brandenburg, halted use of the vaccine for people below the age of 60.
Germany was one of the European states which briefly suspended use of the AstraZeneca jab earlier this month pending an EMA review into the possible link to blood clots.
When the EMA declared the vaccine "safe and effective", Germany and others resumed its use but investigations continued.
The German medicines regulator, the Paul Ehrlich Institute, has found 31 cases of cerebral sinus vein thrombosis (CSVT) among people who received AstraZeneca in Germany.
Almost all the cases are reportedly in younger and middle-aged women.
France already limits use of AstraZeneca to those aged over 55.
There have been no reports of blood clots related to the jab in Canada itself, where 300,000 doses of AstraZeneca jabs have now been administered.
In the UK, five cases of CSVT – one of them fatal – have been recorded among 11 million people who received the vaccine.
In another development, Austria confirmed it was in talks with Russia to buy a million doses of its Sputnik V vaccine, which has yet to be approved by the EMA.
Chancellor Sebastian Kurz is under pressure from opposition parties for his government's failure to buy its full share of vaccines under the EU's collective purchasing scheme.
"There must be no geopolitical blinkers regarding vaccines," Mr Kurz said in a statement issued by his office. "The only thing that must count is whether the vaccine is effective and safe."
Despite the lack of EMA approval, Sputnik is already being used by fellow EU state Hungary.
Russian President Vladimir Putin discussed possible co-operation on vaccines with Mrs Merkel and French President Emmanuel Macron when they held a video conference on Tuesday, Mr Macron's office said in a statement.