A Dutch travel firm will take nearly 200 people for an eight-day holiday in Greece aimed at seeing if tourism is feasible during the Covid-19 pandemic.
Those picked will have an all-inclusive getaway on the island of Rhodes at a cost of €399 (£344; $472) per person, but there are some catches.
They will not be allowed to leave the resort and will have to quarantine for up to 10 days when they return home.
At least 25,000 people have signed up for the government-backed experiment.
The Dutch government's travel advice otherwise is that all foreign trips should be avoided, unless essential, until at least the middle of May.
While many people may like to swap a life of lockdown for a week of Greek sunshine, questions have been raised about whether enabling such escapism is responsible or reckless at a time when both the infection rate and hospital admissions in the Netherlands are on the rise, the BBC's Anna Holligan reports.
The Netherlands has recorded at least 16,536 deaths and 1,246,366 cases of infection during the pandemic, according to Johns Hopkins University.
But with public pressure mounting to allow summer holidays to go ahead, experiments like this one could help to determine whether there is a Covid-secure way to allow people to take an overseas break during the pandemic, she adds.
Over the weekend, a two-day trial music festival was held near Amsterdam.
How will the test holiday work?
Tour company Sunweb is offering 187 tickets for people aged 18-70, which will be awarded manually according to criteria set by the government.
Travellers will be tested before and after their trip. If anyone develops Covid during the trip they will have to quarantine at a Greek Covid hotel but their costs will be covered by the tour company.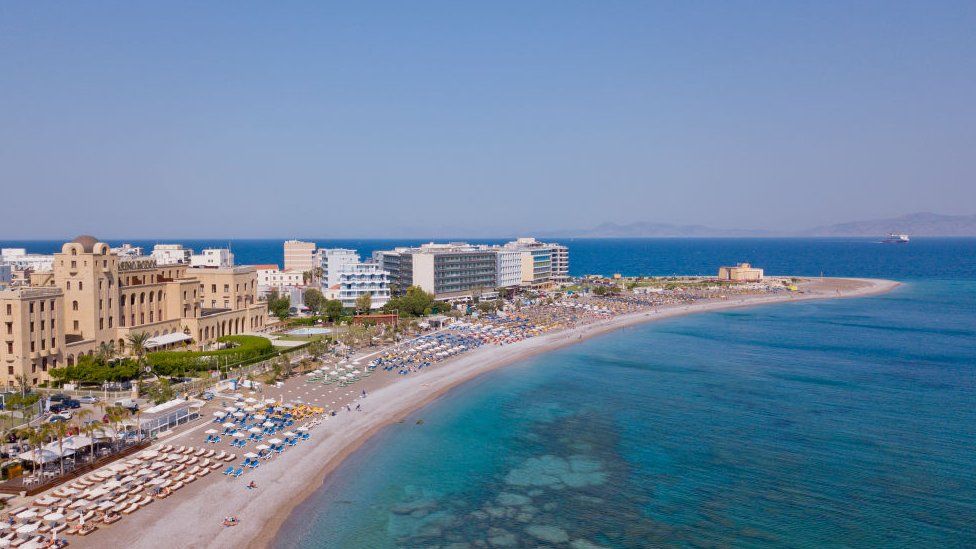 Sunweb says it has drawn up safety guidelines for the entire trip, which have been approved by the Dutch public health agency, the RIVM.
The visitors will be given exclusive use of a hotel on Rhodes, with staff the only other people there. They will have the use of the hotel's swimming pools and restaurants but will not be allowed to go out on to the beach.
Corina Gouderjaan, 51, told Dutch broadcaster RTL Nieuws why she had applied for a ticket: "First I got corona and got very sick. Then I lost my job. So now what? I'm looking forward to doing absolutely nothing at a resort and recovering from this turbulent year."